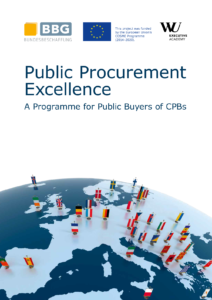 A Programme for Public Buyers of Central Puchasing Bodies (CPBs)
To support public procurement practitioners in performing their roles and achieving the objectives of public  procurement, the European Commission has initiated and is funding a training programme for procurers working for newly or to be established Central Procurement Bodies.
To this end, COSME funded training course PPE – Public Procurement Excellence, offers the programme Public Procurement Excellence (PPE), embracing a unique combination of academic and practical approaches.
The goal is to provide state-of-the art knowledge, tools & methods for modern public procurement, including policy objectives like SME-friendly procurement, environmental sustainability and innovative procurement.
The teaching team will be composed of experienced public procurement experts (management & senior level from longstanding CPBs) and renowned lecturers from the Vienna University of Economics and Business (WU).
Furthermore, the programme will promote the sharing of professional experience and will initiate a platform to build a network of highly skilled public procurement officials.
For application please send an email to ppe@bbg.gv.at.
For downloading PPE programme folder click HERE.
For downloading PPE programme factsheet click HERE.
If you are an SME interested in boosting your capacities of winning public contracts abroad, click here to get in touch with the Tenderio team and find out how we can help your business grow and stay ahead of the tendering game.
If you'd like to start benefitting from the various business services Tenderio has to offer, click here to register free of charge.