14 September 2017 – Business Cloud Bratislava, Slovakia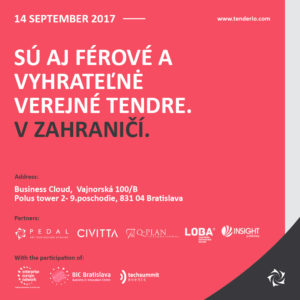 First national Tenderio workshop took place in September in Slovak capital Bratislava. Thanks to the cooperation with Business Cloud Bratislava, organizers used the cozy premises of the BC hub near the city center. Around ¾ of registered participants arrived, mostly consisting of company CEOs, startupers, but also sales representatives focusing on tenders.
The program consisted of three blocks. The first block introduced the personal experience of PEDAL Consulting with the world of tenders and the typical obstacles businesses face when tendering abroad. The second block presented a live demo of Tenderio, coupling the obstacles with Tenderio solutions. During this sessions, participants were given a step-by-step training on how to bid for tenders abroad. The third block was focusing on personal consultations with participants.
Both during public discussion with participants and during private consultations, some concerns were raised repeatedly. Some of the participants were unsure, if their products are good fit for public tenders. Several were disappointed by previous failures in tenders and were careful to do more steps. Others have problems to find local partners for their specialized solutions.
One of the highlights of the event was announcement of the cooperation between Tenderio and the Slovak company FinStat, which offers services based on financial data of Slovak companies. Representatives of FinStat were present during the workshop.
Special thanks goes to the co-organizers from BIC Bratislava and TechSummit!
For more information, please contact r.miskuf@pedal-consulting.eu